Principal's Desk
"Learning gives creativity, Creativity leads to thinking, Thinking leads to knowledge,Knowledge makes you great." ~ Dr.A.P.J. Abdul Kalam
As you navigate your way through the site discovering what we have to offer, you will find answers to the many preliminary questions you may have about our school, our academic programme and student life.
As the Principal of the school, I feel honoured and privileged to be part of an educational institution where every stakeholder is a learner and every day is an opportunity to learn and discover. We look at ourselves as a community of learners, where everyone learns including our teachers, parents & staff.
I believe in upholding high standards with an absolute commitment to strive to understand and improve the educational process, using te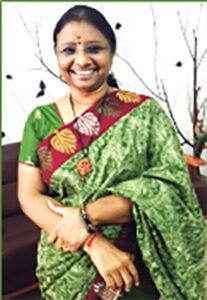 am strategies, while wholly centering on student achievement.
Education is not just a process of giving knowledge for a future job but a lifelong process which creates an understanding of moral and ethical values to guide one's life in a right path. As a parent, you want the best for your child and we are proud to be working with you to ensure that they are given the right knowledge to face the future challenges. Parents, students and the school authorities are a team and we have to complement each other's efforts.
At Alagar we provide an atmosphere to our students for multifaceted development, where children are encouraged to channelize their potential in the pursuit of excellence. This can only be possible in a holistic, student-centric environment. The talents, skills, and abilities of each student need to be identified, nurtured, and encouraged so that he / she is able to reach greater heights. Students need to be provided with a platform to think, express, and exhibit their skills. It is necessary to empower them to negotiate several issues that confront them, with the teacher being a facilitator.
The school is striving hard to make the best possible efforts to inculcate strong values combining with academics and extra-curricular activities in the children. Converting every individual into a self-reliant and independent citizen, the school provides an amalgam of scholastic and co-scholastic activities.
At Alagar our approaches to learning is child centric encouraging Activity based learning and inculcating a scientific temper and a spirit of free enquiry. In our curriculum the student is the primary focus and each child is involved in the learning process. We are constantly improving our teaching methodology so that it turns learning into combination of classroom study, research and scientific discovery.
Our mission is to continue to do what we have always done: develop this school and its students with integrity and values; also to give our students the best opportunities the best all-round education. Our vision is to produce conscientious, smart and confident citizens of India who will go out into the world and make us proud!!
Ms. Deepashreee Sarma
Principal